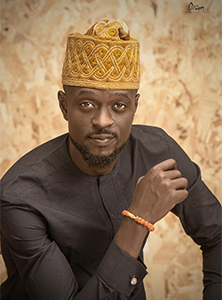 Araoluwa Popoola
Araoluwa Popoola, a young vibrant Nigerian youth with a vision to challenge the status quo, a graduate in Microbiology on journey to become one of the most sought after fashion designers in Africa. Aramanda International, is cutting edge classic, and stylish appeal.
His unique bespoke approach is the driving force in the success story of his brand.
The Aramanda brand has tailored royalty from various parts of Nigeria, and has recently extended their clientele to Ghana and Rwanda. Aramanda's garments have been worn on various red carpet events by celebrities from Africa. The brand's goal is originality and sustainability, along with establishing a solid clientele in the fashion world. Aramanda's focus is reaching out to countries like Ethiopia, Nairobi, Johannesburg, Italy, United States and United Arab Emirates.